OUR UNIVERSE
SAETA Paris is inspired by the Silk Road, this great crossroads of civilizations and trade where precious fabric weaved stories. Each piece in our collections is a tribute to the rich heritage of this route, combining comfort and aesthetics in a symphony of silk.
Let yourself be transported by the gentle melody of distant waves, the murmur of the spice markets, the golden shine of the dunes under a starry sky, and the intoxicating fragrance of jasmine and rose water.
Discover a sensuality that transcends borders, where every detail is a stopover, every touch a thrill.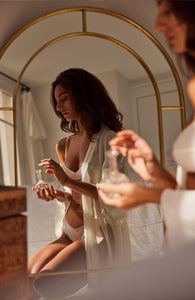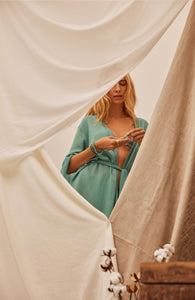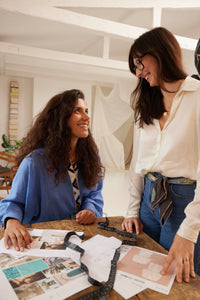 OUR HISTORY
SAETA Paris was born from the observation that women, despite the colossal sums spent on their lingerie, always go for the most comfortable pieces in their wardrobe and rarely the most beautiful.
The awareness that the materials and products sold in large retailers are toxic to the body has only encouraged our desire to change things .
SAETA Paris aims to be as elegant as it is comfortable , but even more, healthy for women's skin and bodies. We design lingerie without concessions or compromises .
Our desire is to offer lingerie that will meet all the criteria: comfortable, natural support, aesthetics and sensuality but also that of feeling beautiful in products that are healthy for the body.
BEHIND THE BRAND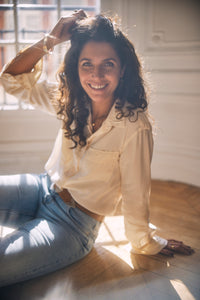 SORAYA KETABI
Raised in an environment rich in encounters and multicultural, followed by experiences abroad and a course in a major business school (EDHEC), she began her career in market finance.
An entrepreneur at heart, it was in 2020 that she decided to embark on the SAETA Paris adventure. She builds the brand's primary mission and ensures that it is respected for future collections.
It brings, through its origins, the inspiration of the brand and the desire to discover the Silk Road.
CAMILLE FOUILLIT
After studying embroidery and then lingerie, Camille received the golden needle and the Jury Prize in the lingerie class of Esmod Paris and then continued to train in particular alongside Paloma Casile.
She became a freelance stylist-modeler in 2020 and creates responsible lingerie collections that meet her values. This is how Camille participated in the launch of SAETA Paris for whom she created the first lines.
Now associated with the brand, she puts her creativity at the service of the brand and throughout the collections.
"
Prepare to combine sensuality and travel

"