FRENCH MADE
Each piece of SAETA Paris lingerie is made with passion and dedication in the heart of France. All our collections are designed by our stylist in Brittany. Manufacturing takes place in a renowned workshop located near Reims. This historic workshop founded in 1876 has expertise in high-end lingerie and corsetry.

By choosing local manufacturing, we perpetuate a heritage of excellence , while supporting French craftsmanship . It is much more than a place of production; it is a guarantee of authenticity and respect for the traditions that make us proud.
QUALITY AND EXCELLENCE
Excellence is at the heart of every decision we make. From the careful selection of our raw materials to the precise finishing of each piece, we pursue a tireless quest for perfection .
SAETA Paris is the symbol of superior quality , lingerie that stands the test of time and celebrates the art of French mastery .
All our partners are recognized for their excellent know-how . Our lacemaker and silks are distinguished by the Living Heritage Company label.

NATURAL MATERIALS
For SAETA Paris, authentic beauty lies in purity. This is why we select exclusively top-quality natural materials , favoring soft and luxurious Lyon silk and Calais-Caudry lace .
Each material or supply used has the Okeo-Tex label, which guarantees the control of harmful and chemical products in raw materials, yarns and dyes. Our materials also have the GOTS , REACH , ECOCERT and Dentelle de Calais-Caudry labels.
LYON SILK
LYON SILK
CALAIS-CAUDRY LACE
CALAIS-CAUDRY LACE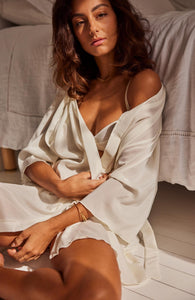 COMFORT AND WELL-BEING
Every woman deserves to feel as good as she looks. With SAETA Paris, comfort is not a luxury, but a promise . Our lingerie, designed to delicately hug the curves, offers a feeling of second skin . In addition to its pleasant feel , silk has many virtues .

It is an invitation to celebrate well-being , every day, with intimacy and trust .